Minnie Lee Webster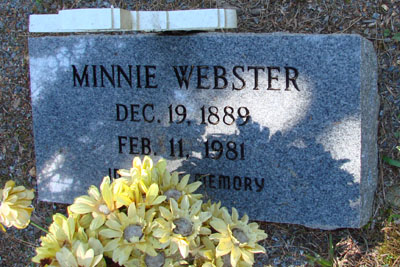 NOTES:
Minnie Lee Webster, daughter of Dennis Webster and Vianna Abernathy.
---
Minnie Lee Webster
Rome News Tribune (Cartersville, Georgia) February 13, 1981
Miss Minnie L. Webster, 92, Acworth, Route 1, died Wednesday. Survivors are one daughter, Mrs. Odessa Moss, Lindale; one sister, Mrs. Cammie Cantrell, Marietta; one brother, Virgil Webster, Acworth; six grandchildren; nieces and nephews. Funeral is Saturday at New Hope Baptist Church, Acworth with the Rev. Herschel Caldwell officiating. Interment will be in the Old Macedonia Cemetery, Cartersville.
NOTES:
She is buried beside her mother Vianna.
She was born in the Stamp Creek/Fairplay area of Bartow and Cherokee.
---
RETURN TO OLD MACEDONIA HOMEPAGE
Information provided for research purposes only.
Do not copy and paste on other websites.
Photos are the property of the site owner or contributors to the site.
Old Macedonia Cemetery, Bartow County, Georgia