Shirley Jannett Jacobs Watts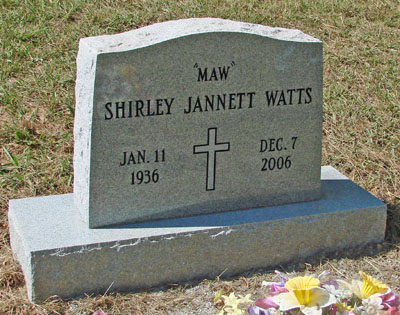 NOTES:
Shirley Jannett Jacobs Watts, daughter of Carey Jacobs and Lorena Sutton.
---
Shirley Jacobs Watts
Daily Tribune (Cartersville, Georgia) December 08, 2006
Shirley Watts, 69, of Young Road, Cartersville, died Thursday, December 07, 2006.
Mrs. Watts was born January 11, 1937, in Bartow County, a daughter of the late Carey Jacobs and Lorena Sutton Jacobs.
She is survived by her children, Eldon and Rhetta Watts of Cartersville and Tommy and Scheryl Watts of Cartersville; grandchildren, Tiffany and Hannah Watts, Seth and Nikki Watts, Allan Mulkey and Stephanie Ray; a great-grandson, Jarred Ray; a brother, James Jacobs, of Cartersville; and sisters Margie Cochran and Mattie Bell Head, both of Cartersville and Carol Gayton of Adairsville.
Funeral services will be held at 2 p.m. Saturday, December 09, 2006, from the Chapel of the Owen Funeral Home with the Rev. Richie Franklin officiating. Interment will follow the Old Macedonia Cemetery.
---
RETURN TO OLD MACEDONIA HOMEPAGE
Information provided for research purposes only.
Do not copy and paste on other websites.
Photos are the property of the site owner or contributors to the site.
Old Macedonia Cemetery, Bartow County, Georgia