William and Lillian Abernathy Millsapps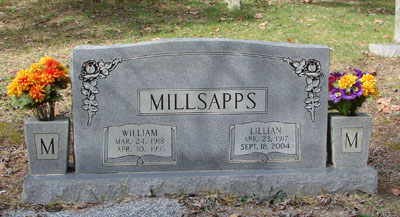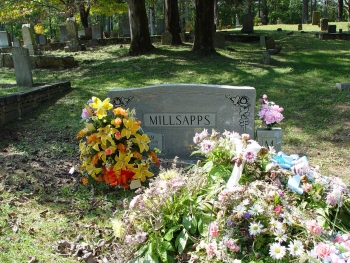 NOTES:
William Clinton Millsaps, husband of Mary Lillian Abernathy
---
William Clinton Millsapps
Daily Tribune (Bartow County) April 1, 1995
William Clinton Millsapps, 76, formerly of Reynolds Bridge Road, Kingston, died Monday, April 10, 1995.
He was born March 24, 1918 in Paulding County, a son of London Millsapps and Julie David Millsapps, a retired heavy equipment operator, a U.S. Army veteran, having served in World War II and of the Mormon faith.
Surviving are his wife, Mary Lillian Millsapps of Cumming; two daughters, Maxine Price of Cumming and Margaret Snider of Canton; a stepdaughter, Sara Lowe of Cartersville; a son, Jerry Millsapps of Ballground; 18 grandchildren, ten great-grandchildren; four sisters, Dellie Brinkley and Mary Belle Holden, both of Marietta, Neppie Crowe of Dallas, Pauline Roper of Canton; a brother, Lonnie Millsapps of Dawsonville; and a number of nieces and nephews.
Funeral services will be held Wednesday, April 12, at 12 noon from the chapel of Owen Funeral Home. Burial will follow in Old Macedonia Cemetery.

Lillian Abernathy Millsapps
Daily Tribune (Cartersville, Georgia) September 20, 2004
Mrs. Lillian Abernathy Millsapps, 87, formerly of Kingston, passed away Saturday, September 18, 2004, at the Chestnut Ridge Nursing Home in Cumming.
A native of Bartow County, Mrs. Millsapps was born April 23, 1917, and was the daughter of the late William Robert and Annie Abernathy. She was preceded in death by her parents; her husband, William Clinton Millsapps; her brothers, William Frank Abernathy and Nat Daniel Abernathy; and a sister, Eliza Jane Keever. She was a retired farm supervisor and was a member of the Church of Jesus Christ of Latter Day Saints.
Mrs. Millsapps is survived by her daughters, Sarah Lowe of Cartersville, Margaret Davis of Acworth and Maxine Price of Forsyth County; her son, Frank Jerry Millsapps of Talking Rock; 17 grandchildren, 20 great-grandchildren, 17 great-great-grandchildren and many nieces and nephews.
Funeral services will be at 1 p.m. Tuesday in the Chapel of Parnick Jennings Funeral Home with Bishop David Bowden officiating.
Interment will follow at the Old Macedonia Cemetery. The family invites friends to a picnic lunch at the cemetery following the services.
---
RETURN TO OLD MACEDONIA HOMEPAGE
Information provided for research purposes only.
Do not copy and paste on other websites.
Photos are the property of the site owner or contributors to the site.
Old Macedonia Cemetery, Bartow County, Georgia