Sandra Jensen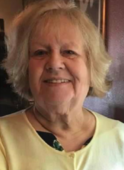 NOTES:
---
Obituary for Sandra Kay Jensen
Mrs. Sandra Kay Karen Jensen, age 77, of Hiram, GA, passed away peacefully from breast cancer at her residence on Friday, January 22, 2021.
Mrs. Jensen was born in Quincy, Illinois, on April 21, 1943, to parents, the late Mr. Homer Virgil Hooper and the late Mrs. Mildred Helen Kosyan Hooper. Mrs. Jensen was a homemaker and loved tending to and taking care of her family. She enjoyed genealogy, was very crafty and enjoyed painting. She was a jokester and always had a beautiful smile and always happy. She had a strong testimony for her Lord and Savior Jesus Christ. She loved spending quality time with her family, they meant everything to her, and she meant everything to them. Mrs. Jensen touched many lives in her 77 years on this earth and will be sorely missed by everyone that had the pleasure of knowing her.
Mrs. Jensen is survived by her husband, Mr. Stanley Don Jensen; children, Scott Darin Jensen (Melanie), Kristie Ann Seawell (David), Melissa D'Ann Allen (Monty), Ryan Don Jensen (Angel), Chad Andrew Jensen (Carrie) and Brandon Nathan Jensen; 18 grandchildren, 4 great-grandchildren, brother, Timothy Hooper (Cindy). Many other family and friends also survive.
In addition to her parents, Mrs. Jensen was preceded in death by her son, Jeffrey Todd Jensen and siblings, Dean Hooper and Jean Smith.
Graveside funeral services for Mrs. Jensen will be held on Monday, January 25, 2021 at 1:00 PM at the Old Macedonia Cemetery located at 298 Macedonia Rd. White, Ga. 30184 with her family giving eulogies.
There will be no visitation, the family will meet at the cemetery on Monday, January 25, 2021.
Jeff Eberhart Funeral Home is honored to serve the family of Mrs. Sandra Kay Karen Jensen.

---
RETURN TO OLD MACEDONIA HOMEPAGE
Information provided for research purposes only.
Do not copy and paste on other websites.
Photos are the property of the site owner or contributors to the site.
Old Macedonia Cemetery, Bartow County, Georgia