Thomas R. Bonsignore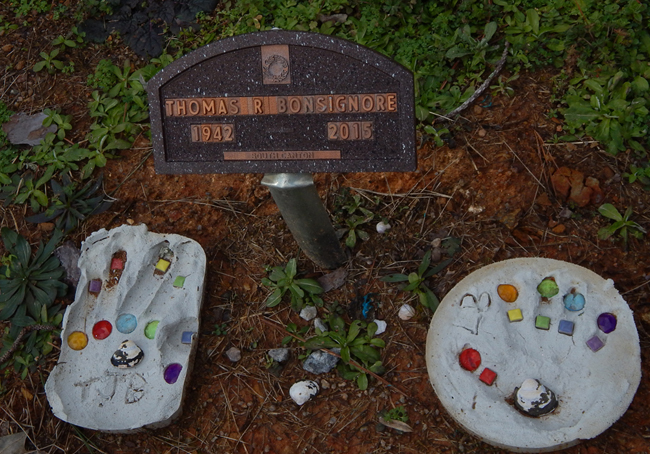 NOTES:
Thomas Bonsignore, son of Jean & Joseph Bonsignore.
---
Obituary for Thomas Bonsignore
Thomas R Bonsignore, age 72, of Canton, GA passed away Monday, March 09, 2015 at Northside Hospital Cherokee. Mr. Bonsignore was a loving husband, father, grandfather, brother, uncle, and friend. He was a member of Our Lady of La Salette Catholic Church.
Funeral services are scheduled for 11:00 AM, on Wednesday, March 11, 2015, from the Our Lady of LaSalette with Father Victor Reyes officiating. Interment will follow at Old Macedonia Cemetery in Bartow County.
The family will receive friends from 7:00 PM to 10:00 PM, Tuesday, March 10, 2015, at South Canton Funeral Home.
He was preceded in death by, Parents: Jean & Joseph Bonsignore; Step-father: Geroge Schneider; Sister: Francine Pavone
Survivors include:
Wife - Mary Bonsignore, Canton
Son - Thomas J Bonsignore, Canton
Grand Son - Lucas Bonsignore, VA
Sister & Brother-in-law - Joyce (Patrick) McDowell, Acworth
Several Nieces, Nephew, and other family also survive

In lieu of flowers, donations can be made to American Cancer Society 1825 Barrett Lakes Blvd. Suite 280 Kennesaw, GA. 30144
---
RETURN TO OLD MACEDONIA HOMEPAGE
Information provided for research purposes only.
Do not copy and paste on other websites.
Photos are the property of the site owner or contributors to the site.
Old Macedonia Cemetery, Bartow County, Georgia