Rachel Gertrude Baker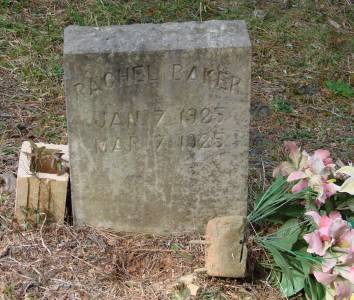 NOTES:
Rachel Gertrude Baker, daughter of John Middleton Baker and Nettie Mae Hill Baker, granddaughter of George Riley Baker and Della Odessa Pruitt.
---
Rachel Gertrude Baker
Tribune News (Cartersville, GA), March 12, 1925
Clear Creek
The little child of Mr. and Mrs. John Baker, of Lindale, was buried at Macedonia Cemetery last Sunday. We extend our heartfelt sympathy to the bereaved parents and relatives.
NOTES: The death certificate for Rachel states that her parents' names are John Baker and Odessa Pruitt. However, marriage and census records, as well as other researchers, show that the father's name is George Riley Baker. Further research gives Odessa's full name as Della Odessa Pruitt.
Death certificate also states that she died in Lindale, Floyd County.
---
RETURN TO OLD MACEDONIA HOMEPAGE
Information provided for research purposes only.
Do not copy and paste on other websites.
Photos are the property of the site owner or contributors to the site.
Old Macedonia Cemetery, Bartow County, Georgia