Elihu Tinsley and Nancy Elizabeth Young Abernathy
Nancy Young and Elihu Abernathy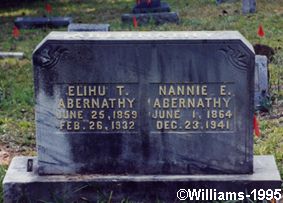 NOTES:
Elihu Tinsley Abernathy, son of Daniel Abernathy and Sarah Coley, husband of Nancy E. Young
Nancy E. Young Abernathy, daughter of Zachariah Young and Mary Adeline Coley, wife of Elihu Tinsley Abernathy
---
Elihu Abernathy and Nancy Young
---
OBITUARY
Elihue Tinsley Abernathy
The Tribune (Cartersville, Georgia) – March 03, 1932
E.T. Abernathy Rites Saturday
Elihue Tinsley Abernathy, 73, died at his home near Adairsville Friday after a brief illness. Funeral services were conducted from Macedonia church Saturday with Rev. C.W. Newberry officiating. Interment was in the churchyard cemetery with the following gentlemen serving as pall bearers: Messers. W.S. Knight, Eli Parker, Wallace Alexander, Joseph Knight, D.R. Parker and W.R. Alexander. John W. Jones funeral director was in charge.
Mr. Abernathy resided in the Macedonia community practically all his life. He had lived near Adairsville for only a short time, moving there after selling his home place a year or so ago.
The deceased is survived by four daughters: Mrs. Nannie McGhin and Miss Jewell Abernathy of Adairsville, and one son, Mr. J.W. Abernathy of Adairsville. The many friends of the bereaved family sympathize with them in their sorrow.
NOTES: Wife was Nancy Elizabeth Young. She was still living at the time of Elihue's death.
Also, there were three other daughters than the two that are listed. They are Ethel Abernathy, Julia Gentry and Alba Pope.
---
OBITUARY
Nancy Elizabeth Young Abernathy
The Tribune (Cartersville, Georgia) January 1, 1942
Adairsville, GA, Dec., 29, (Special) — Mrs. Nancy Elizabeth Young Abernathy, age 77, died at her home in Adairsville Tuesday, December 23rd, after a brief illness. She had lived in Bartow County her entire life and was a member of the Center Baptist church for over fifty years. Everyone called her Aunt Nan as she was a sweet and gentle woman, beloved by all who knew her.
She is survived by one brother, John Young of Cartersville, five daughters, Miss Jewel Abernathy, with whom she lived, Mrs. C.D. Pope of Cartersville, Mrs. E.S. Gentry and Mrs. E.L. Abernathy of Rydal and Mrs. W.N. McGhin, of Adairsville; twenty-three grandchildren and one great grandchild.
Funeral services were held on Christmas day from the Macedonia Baptist church at 11 o'clock with Rev. Howard Cordelle and Rev. Raymond Banks officiating.
The pallbearers were her grandsons, Lucius Pope, Odie Pope, James Pope, Buster, Gene, and Elmer Gentry. Interment was in the family plot in the Macedonia cemetery, Veach and Bartow in charge.
Notes on daughters' names:
Alba Abernathy (Mrs. C.D. Pope)(wife of Cabe D. Pope)
Julia Abernathy (Mrs. E.S. Gentry)(wife of Eli S. Gentry)
Ethel Abernathy (Mrs. E.L. Abernathy) (wife of Linford Abernathy)
Nancy Jan Aberanthy (Mrs. W.N. McGhin) (wife of William McGhin)
---
RETURN TO OLD MACEDONIA HOMEPAGE
Information provided for research purposes only.
Do not copy and paste on other websites.
Photos are the property of the site owner or contributors to the site.
Old Macedonia Cemetery, Bartow County, Georgia