Larkin David and Minnie Beck Abernathy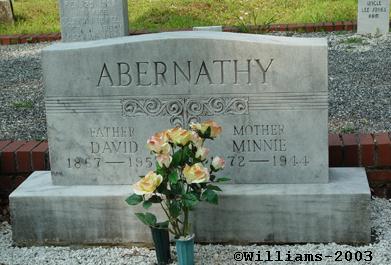 NOTES:
Larkin David Abernathy, son of Bardy Larkin Abernathy and Matilda Bradshaw, husband of Minnie Beck.
Minnie Lee Beck, daughter of Jeffery "Bud" Beck and Amanda E. Loggins, wife of Larkin David Abernathy.
---
Minnie Lee Beck Abernathy
Bartow Herald (Cartersville, Georgia) March 23, 1944
Funeral Held on Monday for Mrs. Abernathy
Mrs. L.D. Abernathy, 72, died at her home on Sunday morning after a lingering illness. She was born in Dawsonville, Georgia, the daughter of the late Mr. and Mrs. Bud Beck, both of Lumpkin County. She later married L.D. Abernathy and they came to Cartersville a number of years ago to make their home. They had been married fifty years.
Survivors include her husband and four sons, Madison, Roosevelt, Judge and Emory; and four daughters, Mrs. Carrie Abernathy, of Acworth; Mrs. Will Knight of Bessemer, Alabama; Mrs. Ollie Cox of Emerson; and Mrs. Liddie Mae Butterworth of Cartersville.
Mrs. Abernathy was a member of the Baptist Faith and funeral services were held from the Macedonia church on Monday afternoon with Rev. Will Abernathy in charge of the service. Owen Funeral Home was in charge of arrangements. Burial followed I the Macedonia Cemetery
NOTES:
Daughter Mrs. Will Knight is Amanda Victoria.

Larkin David Abernathy
Weekly Tribune News (Cartersville, Georgia) November 27, 1957
Larkin Abernathy Dies Suddenly, Rites Saturday
Larkin D. Abernathy, one of the oldest citizens of the county, died suddenly at the home of his son Madison Abernathy in Cartersville early Friday morning.
Mr. Abernathy was born in Bartow County in 1867, the son of Bard L. Abernathy and Matilda Bradshaw Abernathy.
He is survived by four sons: Madison Abernathy and Roosevelt Abernathy, Cartersville; Jud Abernathy, Kennesaw; and Emory Abernathy, Acworth; four daughters: Miss Carrie Abernathy, Acworth; Mrs. Amanda Knight, Bessemer, Alabama; Mrs. Lydia Mae Butterworth, Woodstock; Mrs. Ollie Cox, Emerson, a large number of grandchildren and great grandchildren and nieces and nephews.
Funeral services were conducted at the Macedonia church Saturday at 2 p.m. by Rev Roy Edwards and Rev. Willie Howard.
The grandsons served as pallbearers and interment was in the old church cemetery.
Owen Funeral Home had charge of the arrangements.

---
RETURN TO OLD MACEDONIA HOMEPAGE
Information provided for research purposes only.
Do not copy and paste on other websites.
Photos are the property of the site owner or contributors to the site.
Old Macedonia Cemetery, Bartow County, Georgia